Useful Caps School Competition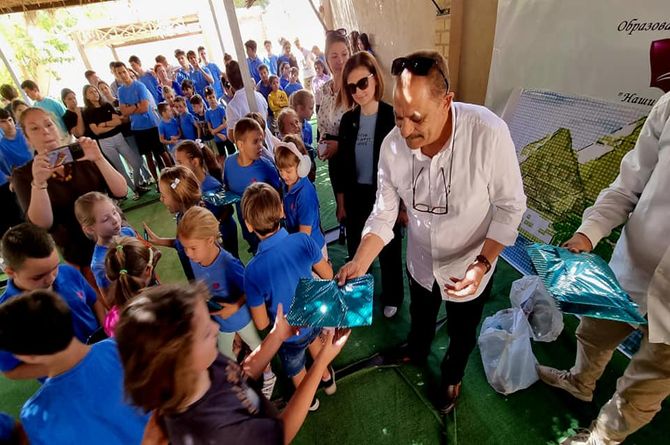 Have you heard about "Useful caps"?
It's a school competition that encourages the kids understand the importance of clean environment, the group that collects the largest number of plastic caps, receive prizes from HEPCA.
HEPCA was in the celebration, presented by Major General Ossama Abdel Kawy, Manager of Solid Waste System and Mr Mohamed Attia, Segregation Factory Manager.
In total, 43 kg of caps were collected at the school!
The guys want to make an art object out of these caps
You may think a bottle cap is not a big deal, but plastic bottle caps are one of the top 10 items found during marine debris beach clean-ups!
Many thanks to everyone for their active participation, for their interest and concern for our Planet.
We thank Econewlife Econewlife for this initiative.
Together we will make our Planet cleaner!
مسابقة "أغطية مفيدة!"
هي مسابقة مدرسية تشجع الأطفال على فهم أهمية البيئة النظيفة، ويتم منح المجموعة التي تجمع أكبر عدد من أغطية الزجاجات البلاستيكية جوائز من جمعية المحافظة على البيئة بالبحر الأحمر - هيبكا.
حضر الاحتفال سيادة اللواء أسامة عبد القوي مدير منظومة المخلفات الصلبة والأستاذ محمد عطية مدير مصنع الفرز.
تم جمع 43 كجم من الأغطية!
يريد المشاركون عمل قطعة فنية من هذه الأغطية التي تم جمعها
قد تعتقد أن غطاء الزجاجة ليس مشكلة كبيرة ، لكن أغطية الزجاجات البلاستيكية هي واحدة من أكثر 10 عناصر يتم العثور عليها أثناء تنظيف الشواطيء!
جزيل الشكر للجميع على مشاركتهم في هذا النشاط البيئي واهتمامهم بكوكبنا.
معًا سنجعل كوكبنا أنظف!
---